In het hoofstuk 'The World House' van het boek, 'Where Do We Go From Here: Chaos or Community?' van Dr. Martin Luther King, Jr. uit 1967, beschrijft Dr. King de enorme uitdagingen waarmee de mensheid wordt geconfronteerd. In tegenstelling tot King's "I Have A Dream"-toespraak of "Letter from Birmingham Jail" is dit werk vrijwel onbekend.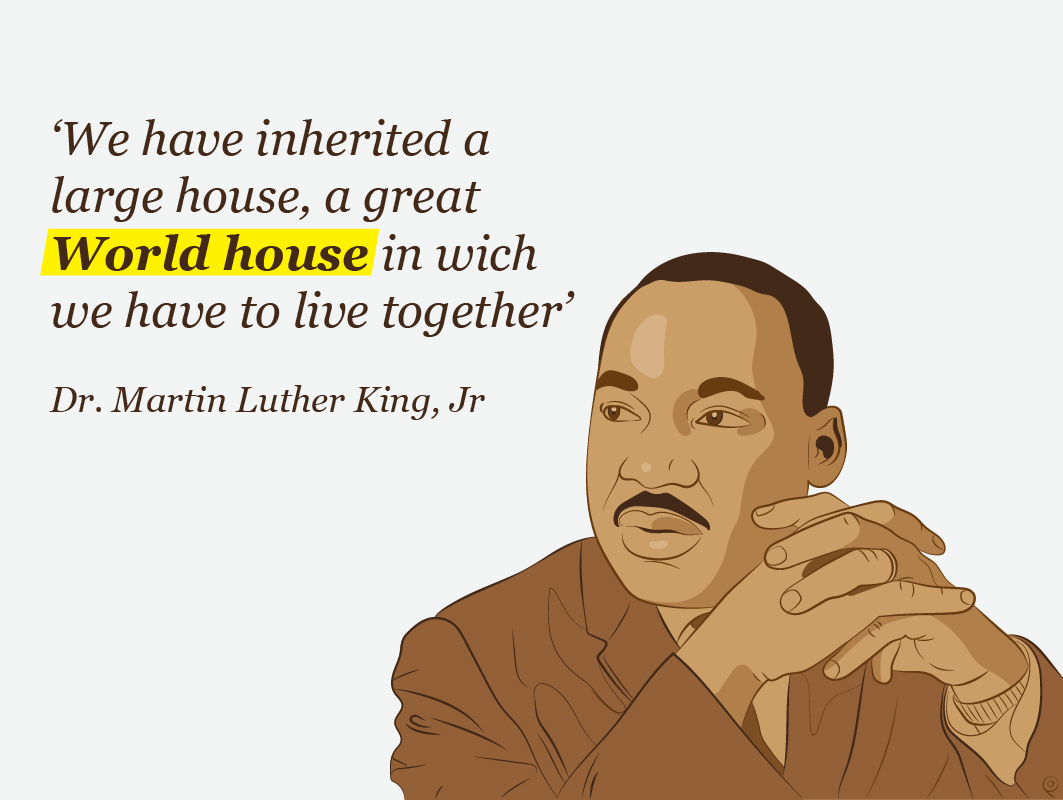 In 'The World House' roept Dr. King ons op de visie van The World House te omarmen en ondere andere buitensporig materialisme aan banden leggen en van een op 'dingen' gerichte samenleving te verschuiven naar een op 'mensen' gerichte samenleving. Hij waarschuwt voor de 'felle urgentie van nu' en dat dit misschien de laatste kans is om te kiezen tussen chaos en gemeenschap.
Onderstaand een selectie van alinea's uit het artikel van Dr. King uit 1967. Het is nu 2021 en helaas blijken zijn profetische woorden niet minder urgent en dwingen ze, een voor ons pijnlijke introspectie af.
"One of the great liabilities of history is that all too many people fail to remain awake through great periods of social change. Every society has its protectors of the status quo and its fraternities of the indifferent who are notorious for sleeping through revolutions. But today our very survival depends on our ability to stay awake, to adjust to new ideas, to remain vigilant and to face the challenge of change. The large house in which we live demands that we transform this world-wide neighborhood into a world-wide brotherhood. Together we must learn to live as brothers or together we will be forced to perish as fools".
"We must work passionately and indefatigably to bridge the gulf between our scientific progress and our moral progress. One of the great problems of mankind is that we suffer from a poverty of the spirit which stands in glaring contrast to our scientific and technological abundance. The richer we have become materially, the poorer we have become morally and spiritually".
"Our hope for creative living in this world house that we have inherited lies in our ability to re-establish the moral ends of our lives in personal character and social justice. Without this spiritual and moral reawakening we shall destroy ourselves in the misuse of our own instruments".
"All men are interdependent. Every nation is an heir of a vast treasury of ideas and labor to which both the living and the dead of all nations have contributed. Whether we realize it or not, each of us lives eternally "in the red." We are everlasting debtors to known and unknown men and women".
"In a real sense, all life is interrelated. The agony of the poor impoverishes the rich; the betterment of the poor enriches the rich. We are inevitably our brother's keeper because we are our brother's brother. Whatever affects one directly affects all indirectly".
"The stability of the large world house which is ours will involve a revolution of values to accompany the scientific and freedom revolutions engulfing the earth. We must rapidly begin the shift from a "thing"-oriented society to a "person"-oriented society. When machines and computers, profit motives and property rights are considered more important than people, the giant triplets of racism, materialism and militarism are incapable of being conquered. A civilization can flounder as readily in the face of moral and spiritual bankruptcy as it can through financial bankruptcy".
"This revolution of values must go beyond traditional capitalism and communism. We must honestly admit that capitalism has often left a gulf between superfluous wealth and abject poverty, has created conditions permitting necessities to be taken from the many to give luxuries to the few, and has encouraged small-hearted men to become cold and conscienceless so that, like Dives before Lazarus, they are unmoved by suffering, poverty-stricken humanity. The profit motive, when it is the sole basis of an economic system, encourages a cutthroat competition and selfish ambition that inspire men to be more I-centered than thou-centered".
"We are now faced with the fact that tomorrow is today. We are confronted with the fierce urgency of now. In this unfolding conundrum of life and history there is such a thing as being too late. Procrastination is still the thief of time. Life often leaves us standing bare, naked and dejected with a lost opportunity. The "tide in the affairs of men" does not remain at the flood; it ebbs. We may cry out desperately for time to pause in her passage, but time is deaf to every plea and rushes on. Over the bleached bones and jumbled residues of numerous civilizations are written the pathetic words: "Too late." This may well be mankind's last chance to choose between chaos and community".
Wij van Overstekend Wild erkennen de urgentie en nemen actie! Juist nu!
Wij zien de implementatie van de Social Development Goals (SDG's) als een belangrijke manier om een bijdrage te leveren aan bewustwording en herstel. Daarom hebben we het activatieprogramma SDA-NOW ontwikkeld; een community met toegepast gamingplatform volledig gericht op de implementatie van de SDG's. Een inspirerend format met onder andere online storytelling, gamification en facts & figures dat deelnemers aanzet in actie te komen om concreet en persoonlijk een waardevolle bijdrage aan de SDG's te leveren. Door het deelnemen aan de Social Development Actions (SDA's) worden de SDG's zichtbaar en tastbaar en doelen gerealiseerd. Sluit je als bedrijf, organisatie of overheid aan en doe mee!